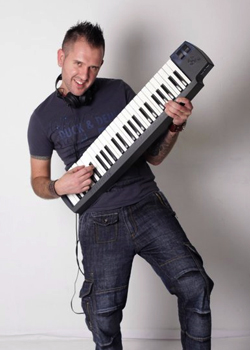 David Campoy was born in 1978 in Barcelona (Spain). When he was only 16 he started into nightlife world as resident dj in a little club in Barcelona.

At this time he so start to trying to produce his first tracks. Long time working as dj locally and producing tracks only for his sets up to in 2000 he released his first track and starts to travel all over Spain pointing his sets toward the dancefloor. This has been always the most important for David, get all the people enjoy his music and his dj sets. A dj and producer who don't like be labelled and with his own and personal style.

He has combined since this momment his different club residences with his gigs around all the counties in Spain. Universal Music, Blanco y Negro, Stereo Productions, Hypnotic Music Paris, Contrasena or Metrouble USA are only a few of the long list of record labels that release his tracks. Actually he throws himself as producer and remixer into the label WE LOVE ASERE. One of the most important remixes is "Juan Magan - Verano Azul", one of the top hits of 2009 released by Universal Music and that got a Platinum Disc...

He so developed his career as radio dj, some radioshows in different spanish radiostations. Actually he presents "David Campoy Overground", a weekly radioshow that sounds in Spain and Latin America in a lot of FM radiostations and by internet all over the world...