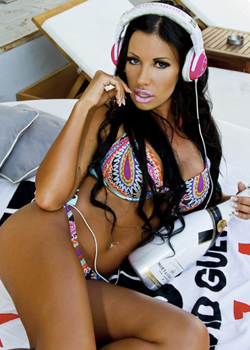 Dj Exotic Eve began her career as photomodel. She made covers for many magazines, advertisements, catalogs. Evelin grew up in the best club's of Budapest and Europe. She started her passion for music early.

"It all started in 2003 when I simply fell in love with electronic music while visiting the hottest clubs of Budapest and Europe. When going clubbing at the Sensation White and I couldn't take my eyes off the dj box. The whole thing just amazed me!"

Everyone loves music! Music is one of the greatest pleasures in a life!

Eve may be a fresh face on the dj circuit.But she's no stranger to the party scene.

Now she impressed the crowd with her own style , mixing many vocal house and electro sounds.Music is in her blood.She is always sure to get dance floor moving.

She is just an explosion of energy and happiness.