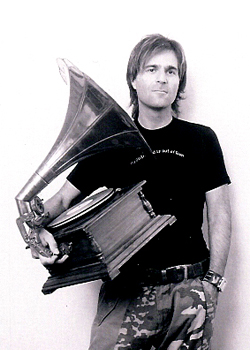 En 1985 Cem Berter alias Jamie Lewis hizo su primera aparición como DJ en los circuitos de clubes sizos tocando música disco y Funk clásico, pero no tardó mucho tiempo en convertirse en un referente en la escena de la música house de finales de los 80 gracias al amor y la pasión que este artista siente por la música. Desde 1987 hasta 2004 era dueño de una de las primeras y más famosas tiendas de discos de Suiza (DJ Service,en Winterthur).

Realizó su primeragrabación en 1992 para el sello italiano UMM,y en 1994 para el sello canadiense Definitive Rec. (John Acuaviva).

En 1997, Jamie Lewis creó Purple Music, su propio sello discográfico que hoy en día es reconocido como uno de los más importantes del mundo con artistas, remixers y productores como Bob Sinclair, KOT, Sandy Rivera, Dimitri from Paris, Brian Tappert, Dj Pippi, Cerrone Michelle Weeks, Lisa Millet, Michael Watford, Andrea Love, Jocelyn Brown, Alfred Azzetto, Luca Cassani, Panevino, Kemal amm...

Los colaboradores de Jamie no sólo son los más apreciados artistas del pop house music, sino también por estrellas como Etienne de Crécy, The Weather Girls, Cerrone y Billie Ray Martin.

Sus producciones más exitosas "The Light" y "Be Thankfull" con Michelle Weeks fueron muy aclamadas en los registros de la WMC en Miami (2002 y 2005) concediéndole nominaciones en los UK "House Music Awards". Sus producciones y remixes para "Hooked on You", "You are the one", "Not too Shabby", "Tattoo Woman" por Cerrone, "By You", "It´s over and it´s not over" con Michael Watford y "Give you" con Djaimin han estado juntos algunos de los títulos más sonados en todo el mundo.

Sus principales colaboraciones son con Defected, MN2S, Yellow, Universal, Malligator, Salted y Soulfuric. Mezcló más de 25 recopilaciones incluido el Nº1 Mykonos,Streetparade house, Waxwars, Dj Pippi & Jamie Lewis in the MIX, Defected International y creando su propia colección de camisetas "My girlfriend is out of Town" and "My boyfriendis out of Town" ampliando su negocio no solamente en el ámbito musical.

Jamie Lewis ha recorrido un largo camino desde su comienzo en el mundo de la música, pero convertido en uno de los más solicitados del panorama ha sido reclamado en clubs como Cielo (New York), Tanque (Sidney), Opium Garden y Nikki Beach (Miami), Mighty & The End Up (San Francisco), Deep (Los Angeles), Pacha (Ibiza, Londres, Mallorca, Madrid), El Divino, Privilege, Penélope, Love (Ibiza), Hacienda (Croacia), Venue (Atenas), Cavo Paradiso (Mykonos), Discoteque & Catwalk (Barcelona), Echoes (Riccione), Quartiere Latino & Riobo (Gallipoli), Jubilee (Bari), Ambasada Gavioli (Eslovenia), L´America (Cardiff), Tiefenrausch, Acanto (Alemania), Século XIX (Oporto), QUEEN (Paris), Turnmills (Londres), Utopia (Varsovia), Trilogy (Dubai) por nombrar algunas...

Sus "Purple Nights" las famosas fiestas de residencia en Suiza tienen lugar cada último sábado del mes desde 1997 en Kaufleuten (Zurich), y cada dos meses en Atlantis (Basilea).

Sonido elegante, funk house, y divertido es la apuesta de este Dj consagrado como uno de los mejores del mundo en su género.